We recently returned from five days in Yellowstone National Park and two additional days in Grand Teton National Park. We timed our visit to correspond with the height of the elk rut and the peak of the fall colors. The late September period also overlaps the pronghorn and moose rut periods. Both parks were crowded, but nothing like the crowds of this summer where two hour waits to enter the park at West Yellowstone were reported.
We were able to capture some decent landscape images at some of the iconic locations at Grand Teton National Park, including Oxbow Bend. Not much snow left on the Tetons, but we had a windless morning which allowed decent reflections.
Mormon Barn is another popular photo subject in Grand Teton National Park. We had some residual ground fog apparent in the image, but otherwise I was pleased with my images from this location.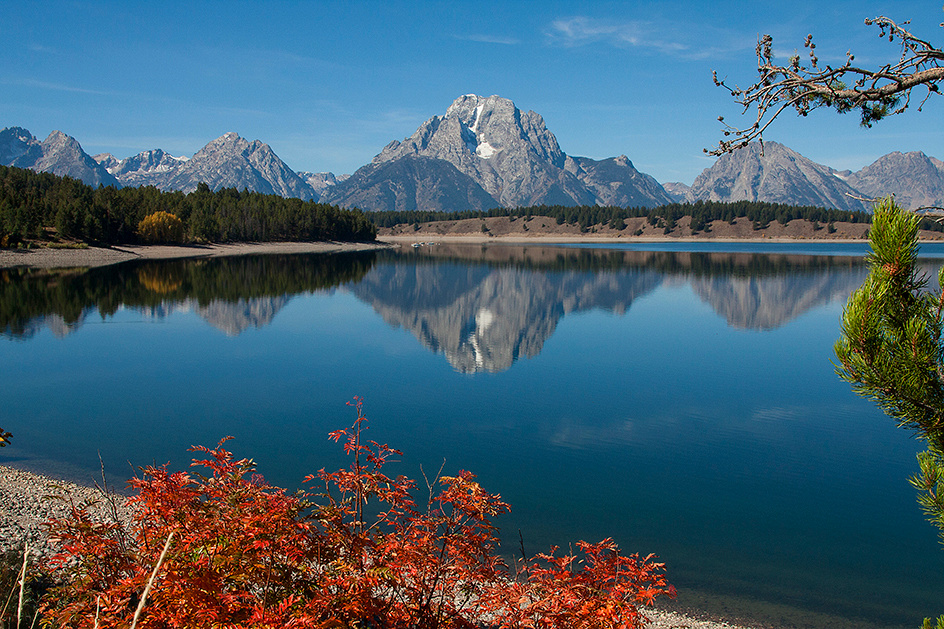 Another popular photo location in Grand Teton National Park is Lake Jackson where reflection shots of the distant Tetons are possible on a calm morning.
A fall drive through the park provides opportunities for scenic landscape images at every turn. The image above was captured near Moose Junction. We were able to view pronghorn, moose, coyotes, and a few elk in the Grand Teton National Park, but few decent wildlife photo opportunities occurred.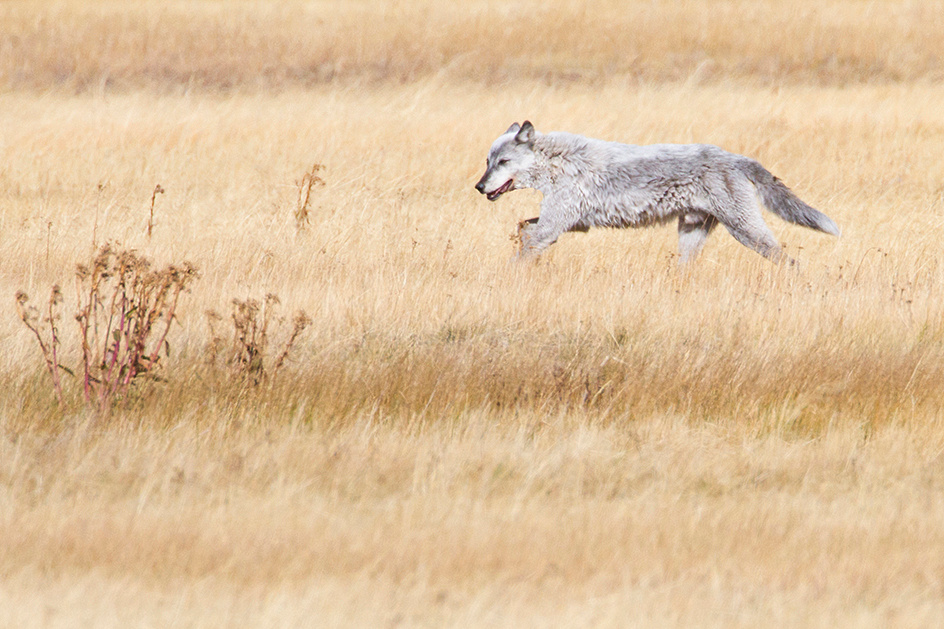 During our trip to Yellowstone in late May, we were able to observe several very distant wolf hunts. Within 90 minutes of entering the park on this trip we watched an adult male wolf chase a cow and calf elk the length of Gibbon Meadows in mid day light at about 125 yards distance. Unfortunately, the wolf was wearing an ugly radio collar which I removed in Photoshop.
Wolf hunts are very exciting and I can understand why many visitors spend their entire vacation behind spotting scopes attempting to observe hunting behaviors. On the first day of our recent trip, a cow bison was killed in Lamar Valley by a speeding SUV. The rangers drug the carcass off the road about 150 yards. Large crowds of photographers and wolf watchers lined the road from dawn till dark every day. We drove by everyday, but during the five days we were in the park, no one reported any wolves or bears on the carcass during daylight hours.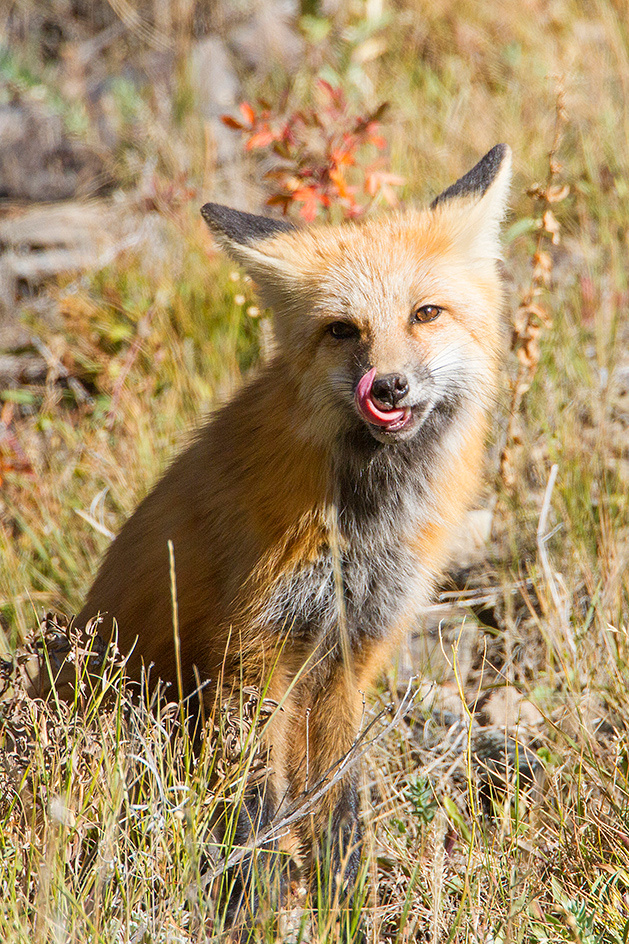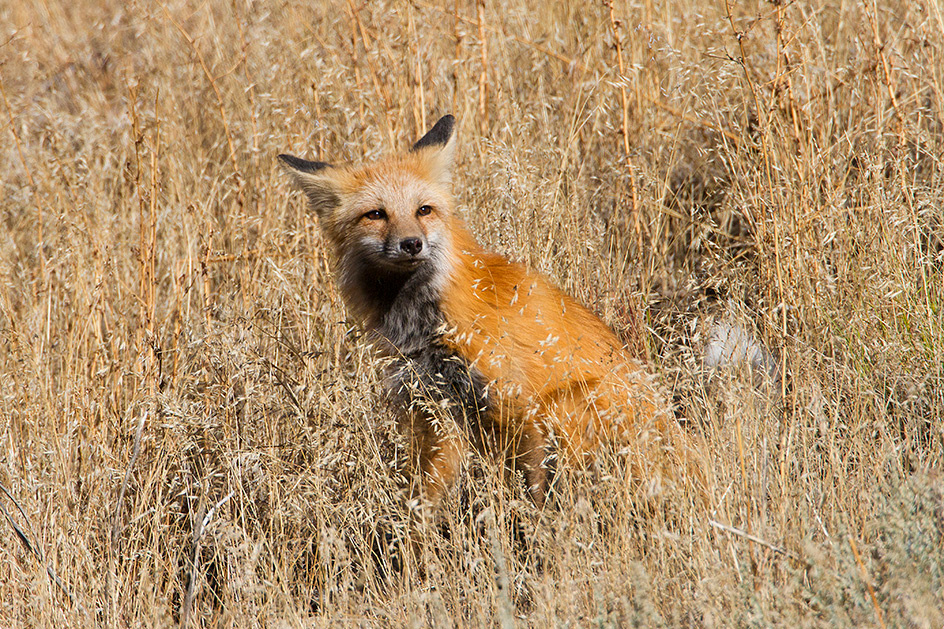 On our last morning in Yellowstone we happened upon a red fox asleep in tall grass with only the tips of his ears visible. After a very lengthy wait, I finally gave up on getting any images. As I was putting the camera and tripod back in the vehicle, he decided to wake up and gave me some nice poses at near minimum focus distance. These little guys are quite photogenic and very tame in Yellowstone. One of my favorite wildlife photo subjects.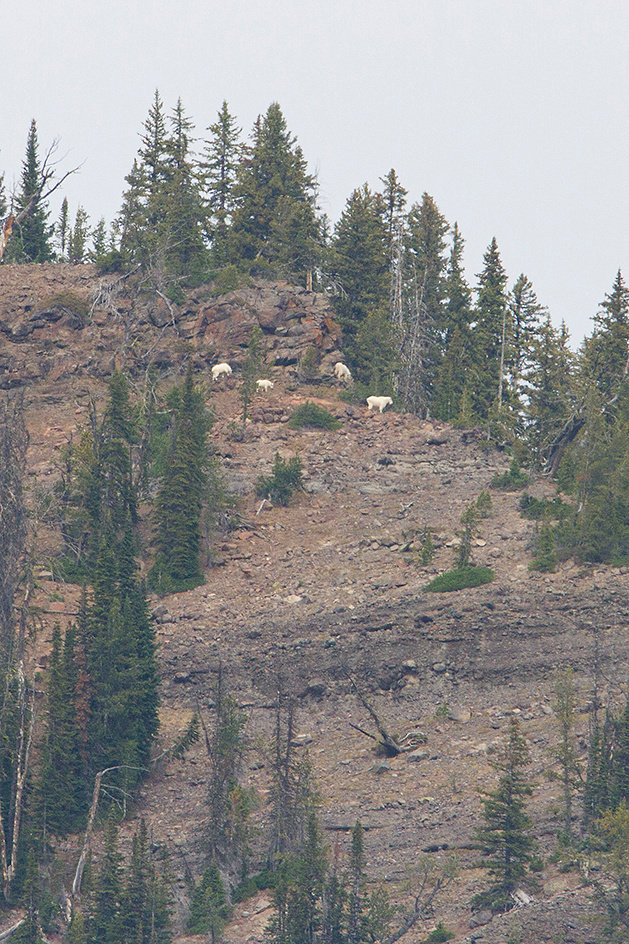 The documentation shot above was our first sighting of mountain goats in Yellowstone. This image was taken from about 3/4 of a mile away near Pebble Creek campground. Not a great image, but so cool to finally see these introduced animals in the park.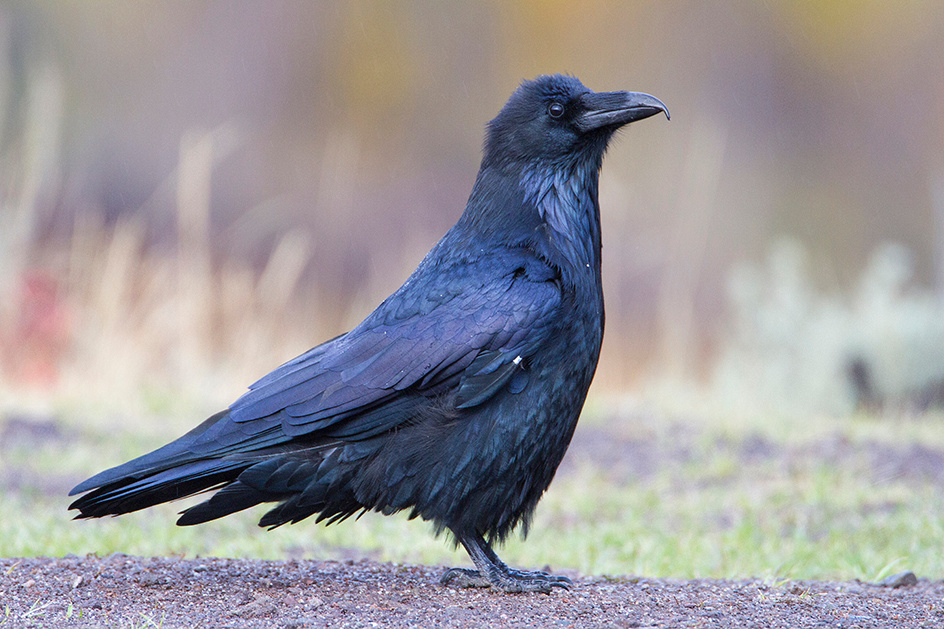 We saw and photographed very few birds in either park. I had hoped to photograph a great gray owl and a pine grosbeak, but saw neither. I photographed this common raven along the roadside near Petrified Tree.
We saw several trumpeter swans in Yellowstone and I was able to improve on my May images of this federal endangered species. I captured this image at mid day on the Firehole River.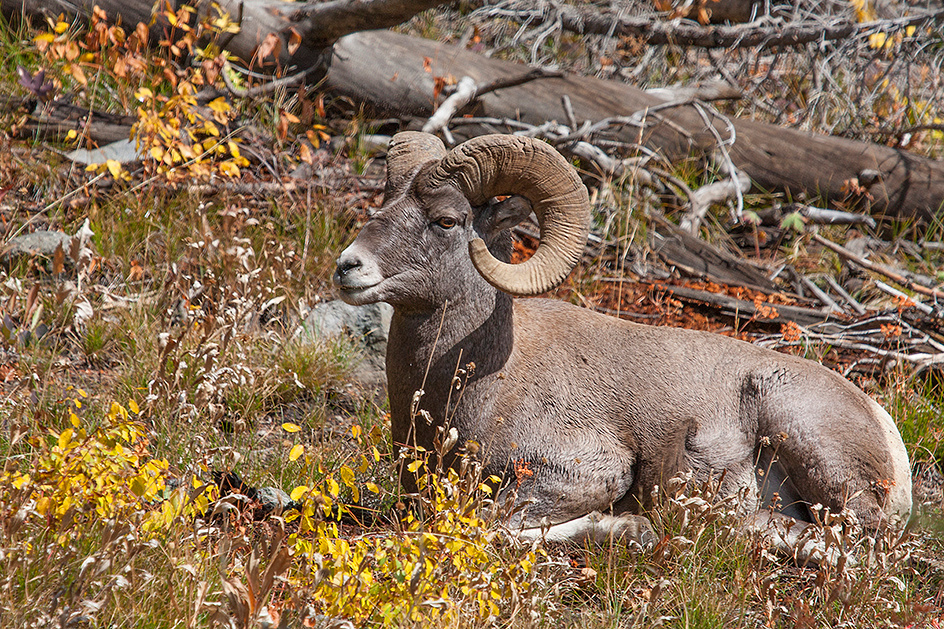 We saw and photographed big-horned sheep every day including several nice rams. This ram was sunning along the roadside on Sylvan Pass in mid day light. It is my opinion that most park visitors drive way to fast to locate wildlife. This ram was 20 feet off the main road and hundreds of cars drove by without spotting him.
This nicely posed group of big-horned sheep ewes and lambs were on one of the outcrops along the Gardiner River Gorge near sunset.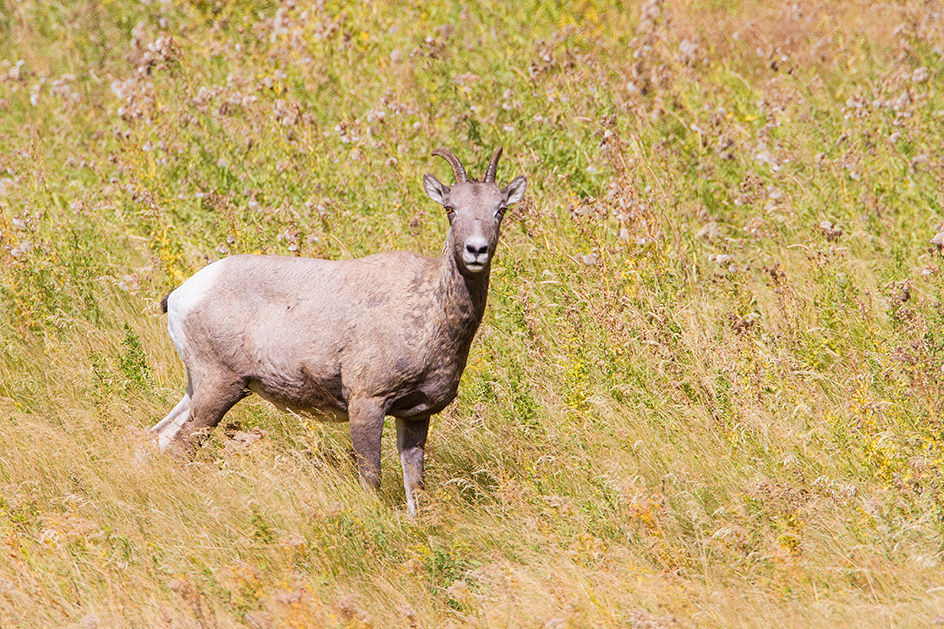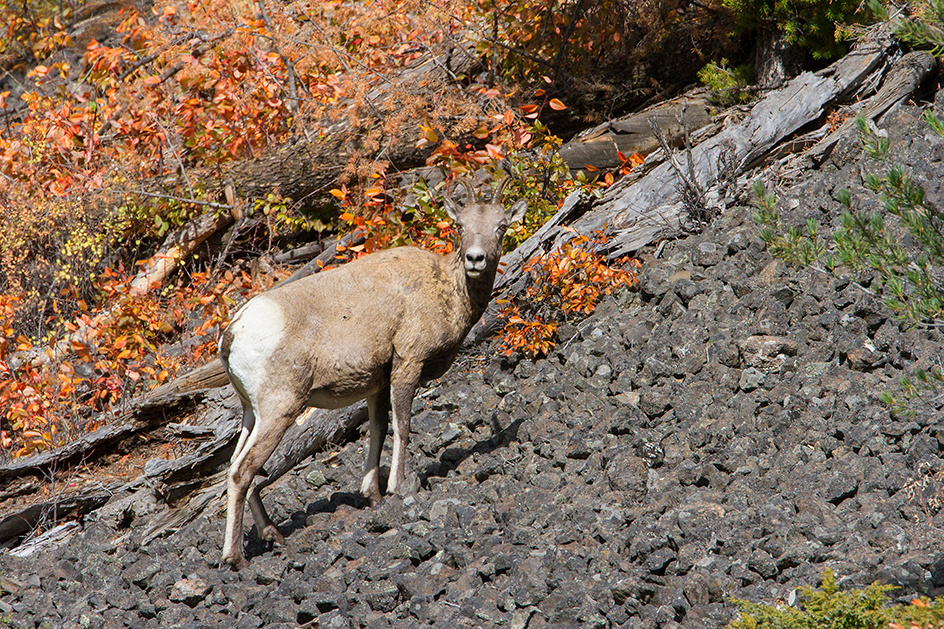 We found herds of big-horned sheep along the roadside near Tower almost every day. I am constantly amazed at the ignorance of some park visitors related to wildlife identification. I regularly heard both pronghorn and big-horned sheep misidentified as deer.
Two large, mature, big-horned rams were hanging out near Tower every day and were very popular photo subjects.
Bison were common although not as widely distributed as when we visited in May. They were also more photogenic in September than in the spring when they were shedding their winter coats.
Whenever possible I tried to capture wildlife with a background including some fall color. With bison, I was unsuccessful. In fact I have captured few good bison images in my two most recent trips. They are incredibly common, widespread and tame, but still no images that I feel are better than just average.
The above photo was captured in Lamar Valley as a large and distant bison herd crossed the Lamar River. The entire herd ran from the hills north of the valley, across the road, across the valley and across the river for no apparent reason. As they stampeded they picked up more and more bison until several hundred animals crossed the river and milled around the far bank. I was unable to detect any predator or other factor responsible for the mass movement.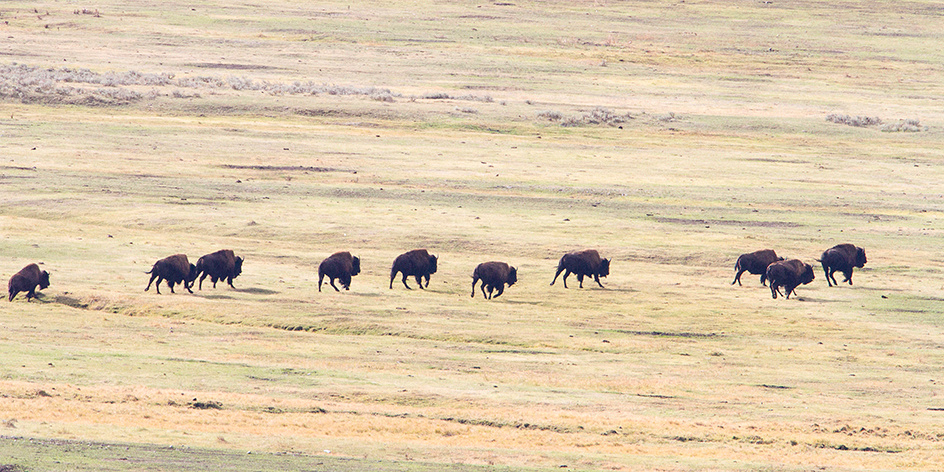 These were the last of the herd to cross Lamar Valley on the run in their odd rolling gait.
We observed a single black bear several times, but never captured any keeper images. No grizzly bears were observed.
Pronghorn were widespread and definitely in the rut. We were able to watch a lot of pronghorn breeding related behavior including some on the Gardiner High School athletic field.
These young pronghorn bucks were doing some light sparring.
I was able to capture a few images of pronghorn with some nice fall colors.
Mature bucks were constantly on the move herding their harems and chasing off rivals.
We were fortunate to capture a few images of pronghorn breeding behavior. It was interesting in that the male approached the female standing erect on his hind legs and walked into her while placing very little of his body weight on her. I thought that it was pretty obvious that we were viewing copulation, but many visitors asked me what they were doing.
The principal purpose of our trip was to observe and record bull elk breeding activities including bugling, brush beating, wallowing, harem keeping, and fighting, We were successful in that we were able to photograph 4-6 bulls per day frequently involved in these activities. The bull above came out of the foothills on private property north of Gardiner near dusk with at least 80 cows and calves. Lots of bugling activity captured, including this down the pipe image.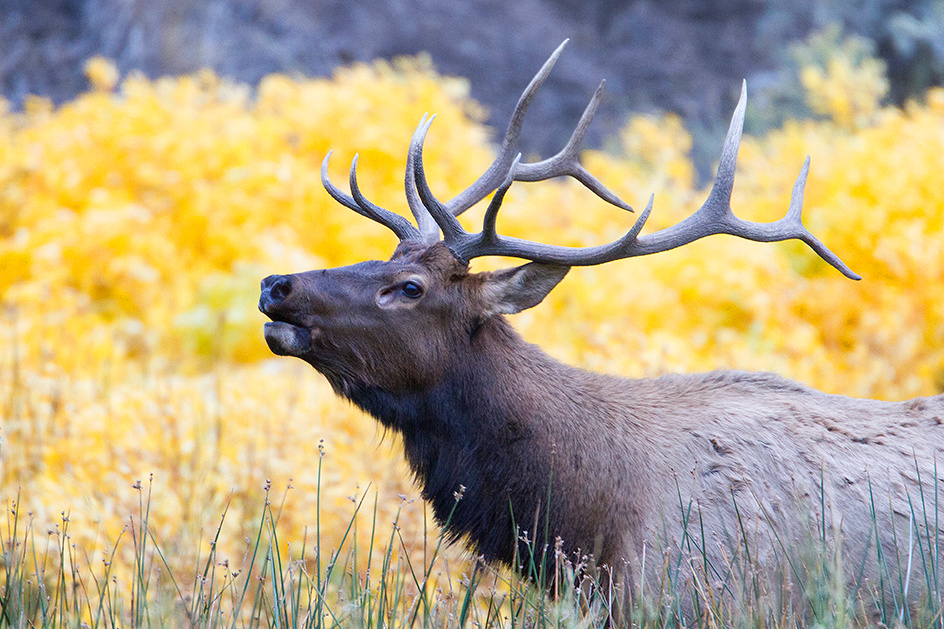 My camera, a Canon 7D, is less than ideal under low light conditions, I was forced to use ISO 800 to gain enough shutter speed to create sharp images, but at ISO 800, I frequently get very noisy images, especially in the darker areas as shown above.
Elk were not very widespread in the park during our visit. Most of the bulls we saw were within 5-7 miles of Mammoth or Gardiner.
Herd bull on Swan Lake Flat near dusk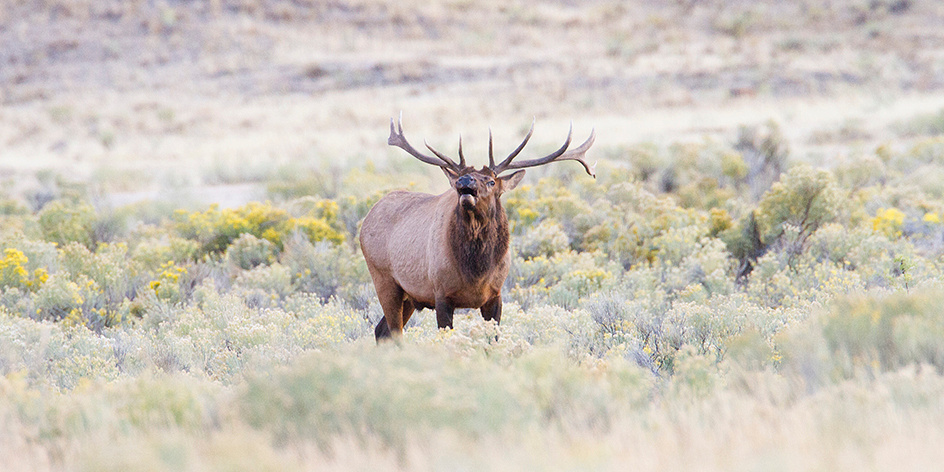 Lots of bugling was heard, which is not unlike a shrill whistle. An odd vocalization to eminate from so large an animal. Truly a sound of the fall in the Rocky Mountains. One evening were parked near the southern end of Swan Lake Flat and had 3 bulls bugling within 1/2 mile of each other.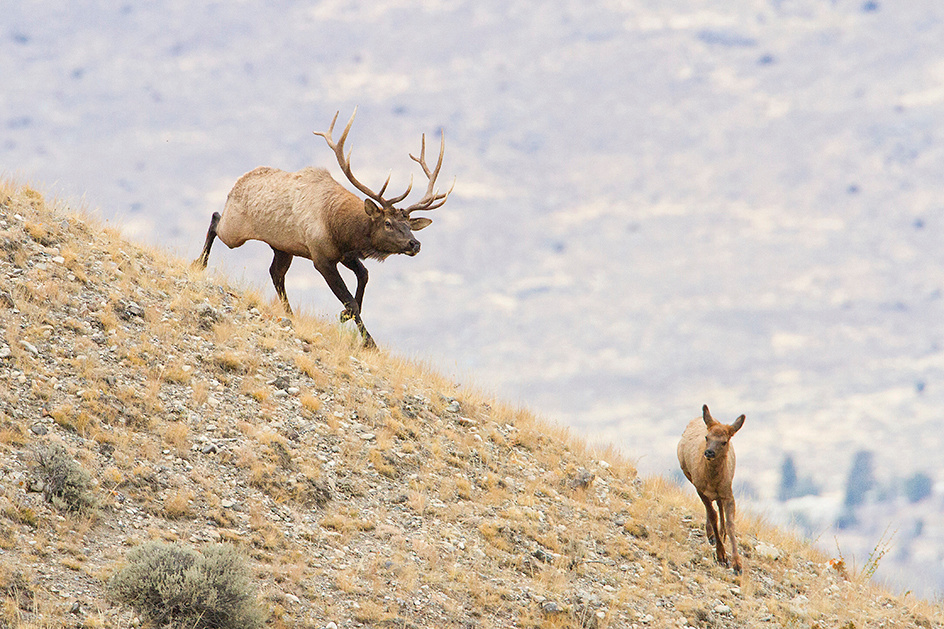 The bulls spent a great deal of time and energy attempting to keep their harem together. They exhibit great speed and herding skill on steep and unstable terrain.
This bull above had kept a good sized harem together all day until a much larger rival appeared and the smaller bull relinquished his cows without a fight.
The bull below was the resident herd bull in downtown Gardiner. Some odd palmation on his short antlers.
Spike bull head shot captured near Gardiner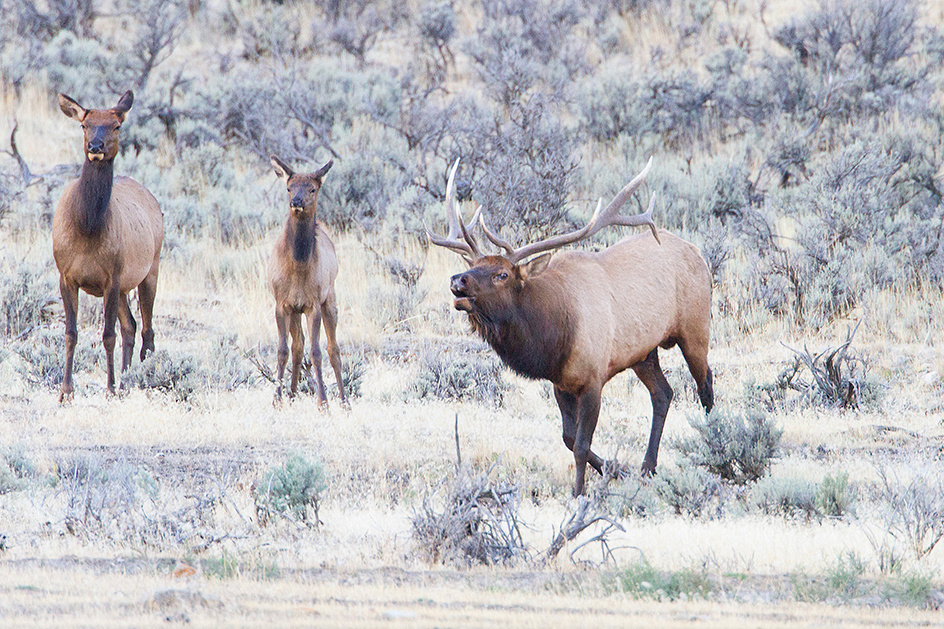 Pictured above is "Touchdown" the resident herd bull in downtown Mammoth. He was easy to find, but difficult to photograph without a car, house, or an I-pad wielding tourist in the background. Easily the most photographed single animal in Yellowstone during our visit. He had two rangers in attendance constantly to keep the selfie crowd at a safe distance.
I had some perfect morning light on the cow elk below along the Moose-Wilson Road in the Grand Teton National Park. One of the few cow elk images I kept from the trip.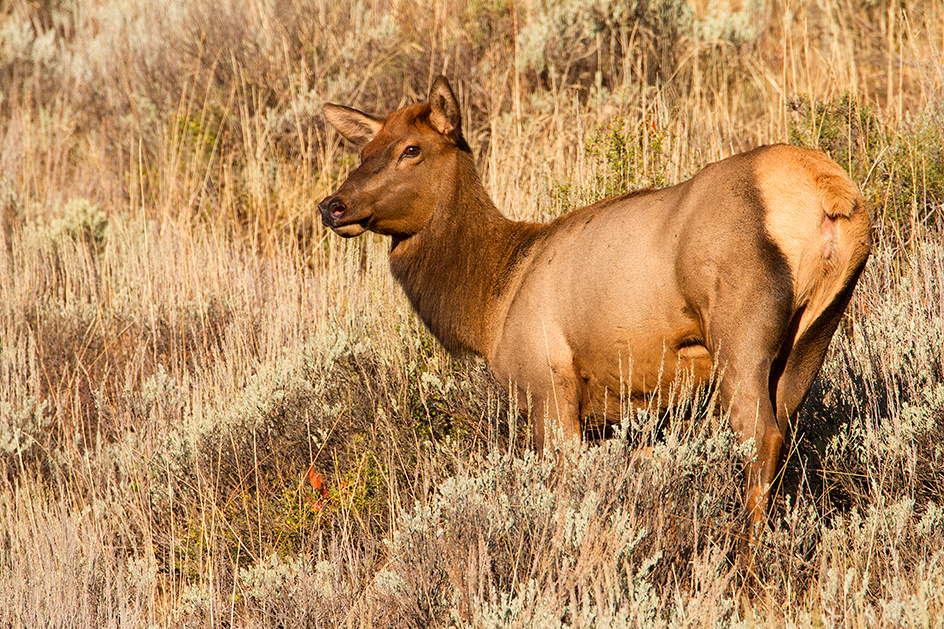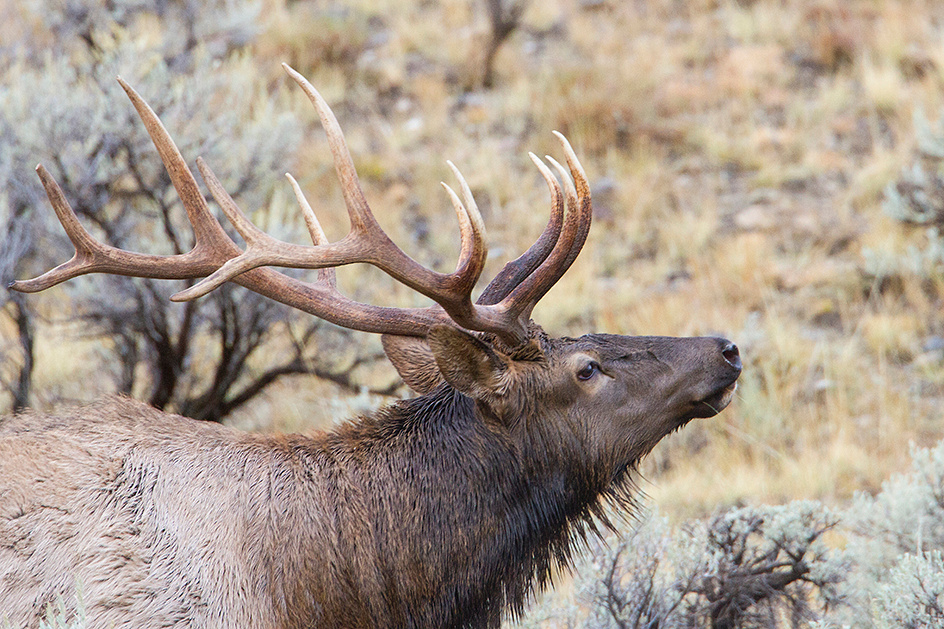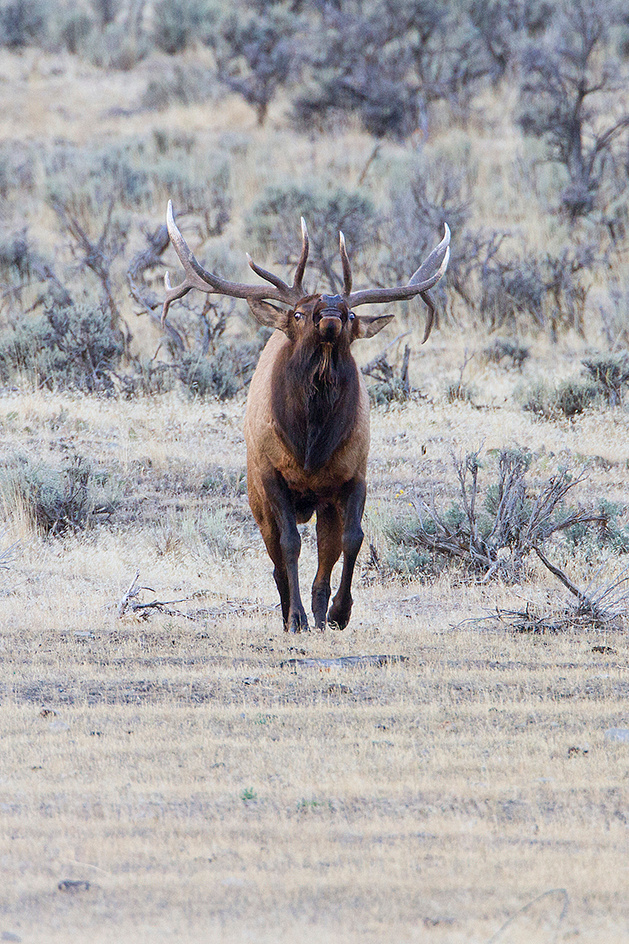 Can you hear me now?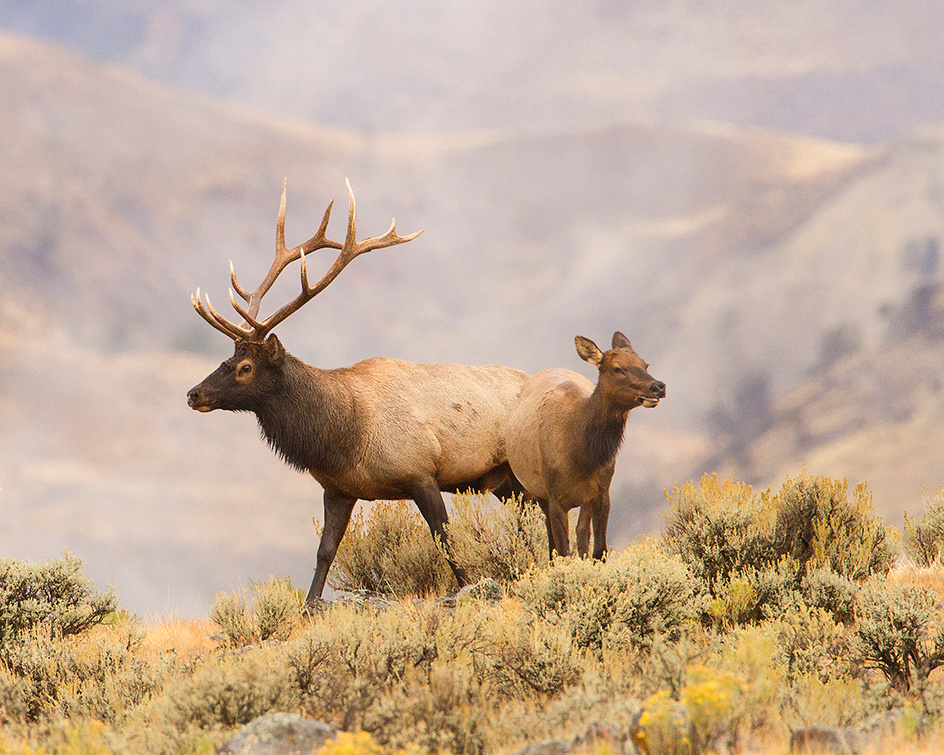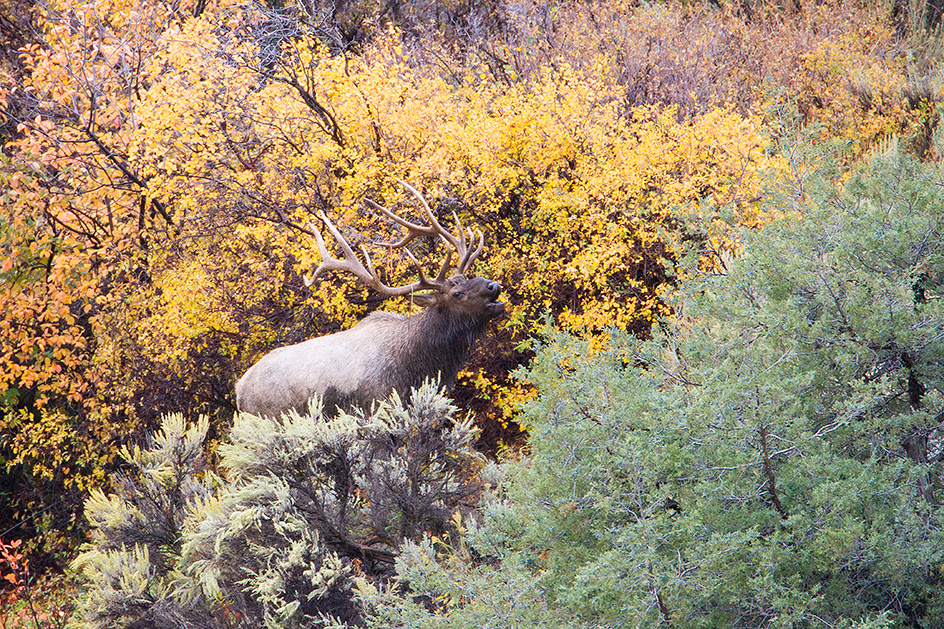 Nothing like a good roll in the mud before a stroll with the girls.
I had several opportunities to get away from the roads and capture bulls on ridge lines with impressive backdrops.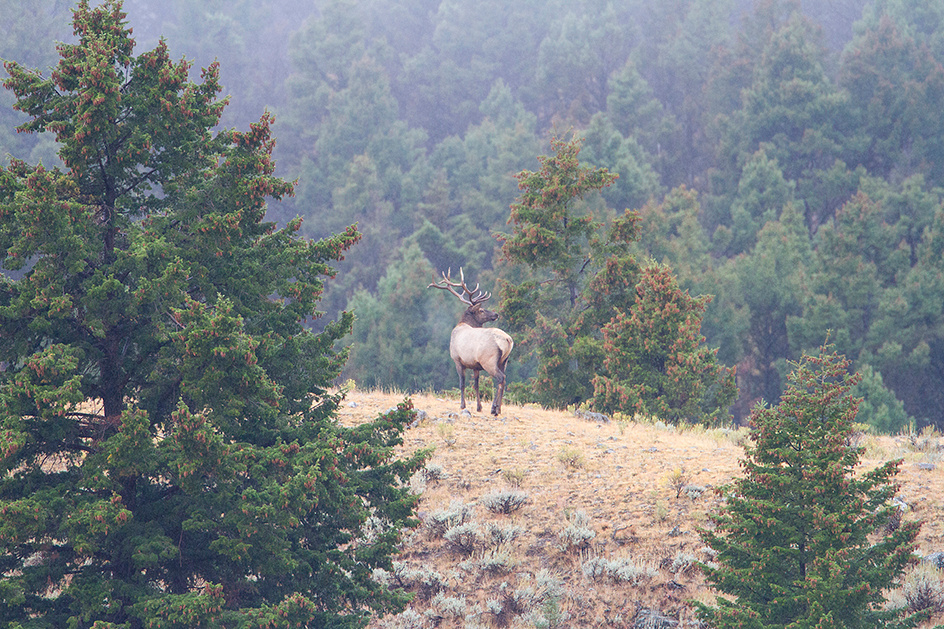 I have a tendency to attempt to capture frame filling wildlife images. Lately, I have tried some captures where the subject is relatively small in the frame. The image above turned out better than I had hoped. It was taken under somewhat foggy, low light conditions at a distance. The bull had just herded his cows over the ridge and stopped to listen to a nearby bull bugle.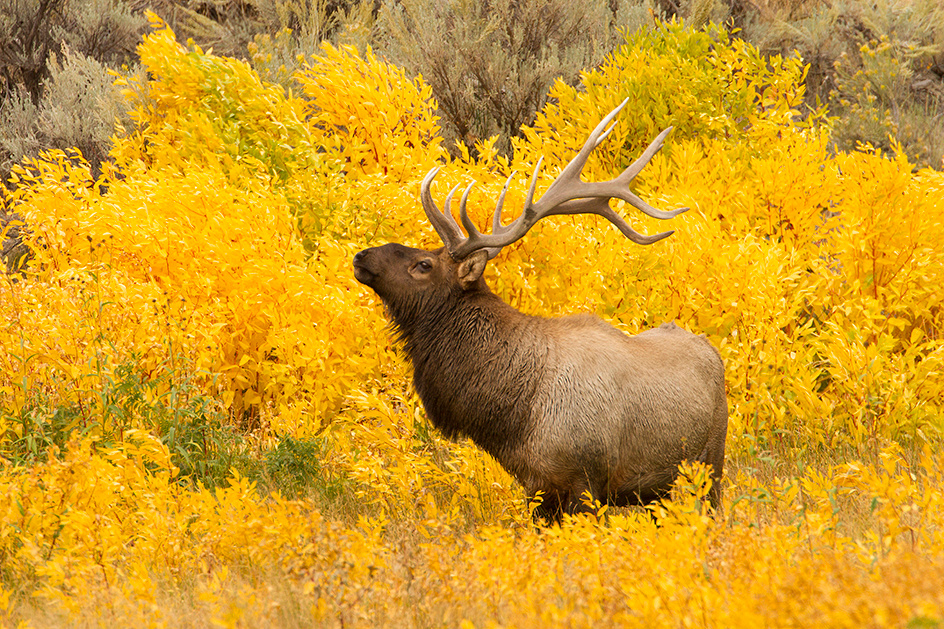 Probably my favorite elk image of the trip. A mature roman nosed bull showing of his rack to a rival in a patch of wonderful golden color.
Mammoth Hot Springs on a 28 degree morning.
The Tetons certainly had superior fall color photo opportunities, but Yellowstone also offered some stunning landscape photo opportunities including this image from Sheepeater Cliffs.
I would highly recommend a visit to Yellowstone in either mid May or late September. Photo opportunities are quite different during each time period and the crowds are certainly less than during the main visitor season.
​I feel that in at least 2016, the very best time to visit Grand Teton National Park is during mid-September. Fall colors are at their peak and early snows provide a dusting on the mountains without adversely affecting travel.