We visited Yellowstone in mid-May in attempt to photograph wildlife without the crowds of summer. We were successful on both counts. We spent five full days in the park, covering virtually all of the open roads. Weather was not great for photography. We rarely saw the sun in the mornings or evenings. We had snow, hail, fog, and torrential thunderstorms part of every day. We chose to stay in Gardiner Montana on the banks of the Yellowstone River. We had an amazing view of Electric Peak from our front door.
Three of the five mornings we were treated to elk on our front porch, pruning the landscaping. The image below is of the recently restored Roosevelt Arch with one of the many Gardiner resident elk. The image was captured handheld with a 100mm lens and a shutter speed of 1/30 of a second. I am quite amazed that it turned out as well as it did under those conditions. I cloned out a yield sign mounted on the arch.
Spring is a time of much activity with bison and elk dropping calves. Bison calves were abundant and we observed thousands of bison with large herds in Lamar Valley.
Young bison are quite playful. The calf below is kicking up his heels and preparing to head butt his mom. Note the remains of the umbilical cord.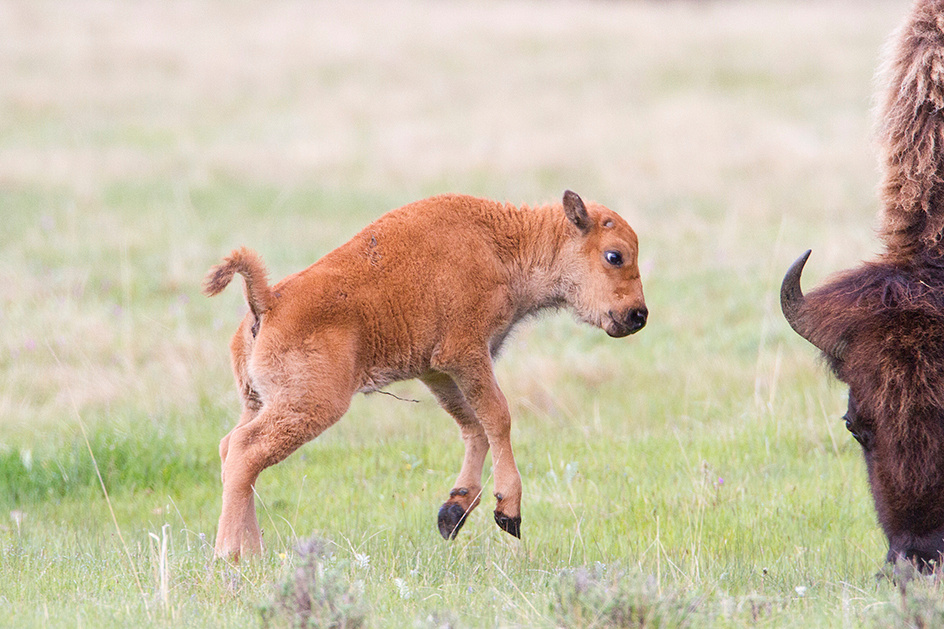 Bison nursing calves were a common sight. The locals call the calves "red dogs".
One of the classic Yellowstone images I had hoped to capture was a bison herd river crossing. I got my chance on the 3rd morning. Unfortunately, they chose to cross on the Lamar River bridge. They even had a crossing guard!
Black bears were also quite common, especially in the area near Tower. We ended up observing and photographing six sows with cubs and a single boar. The boar is pictured below.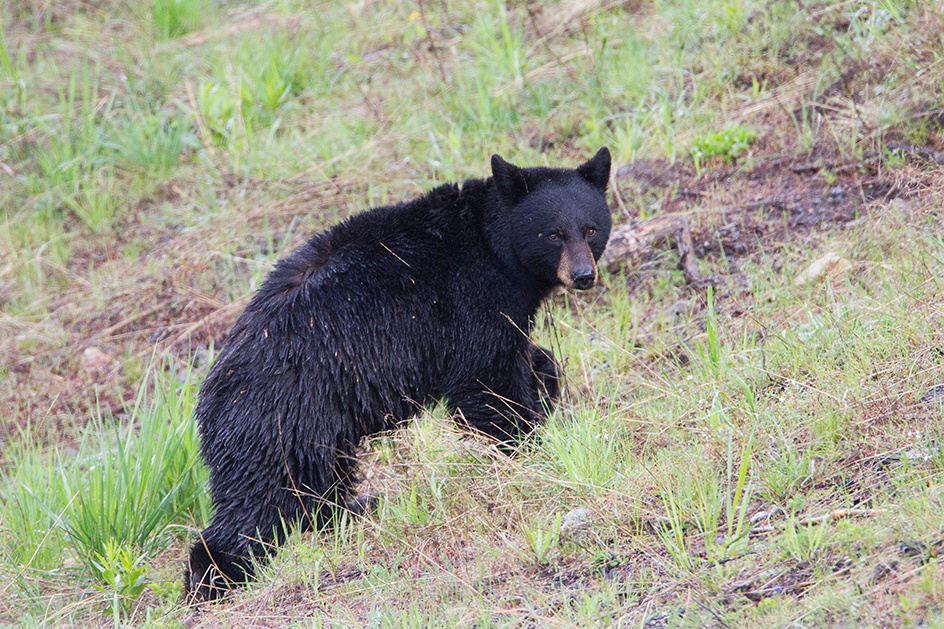 A lot of my black bear photos were captured under low light conditions, so I was forced to use higher ISO speeds than I prefer.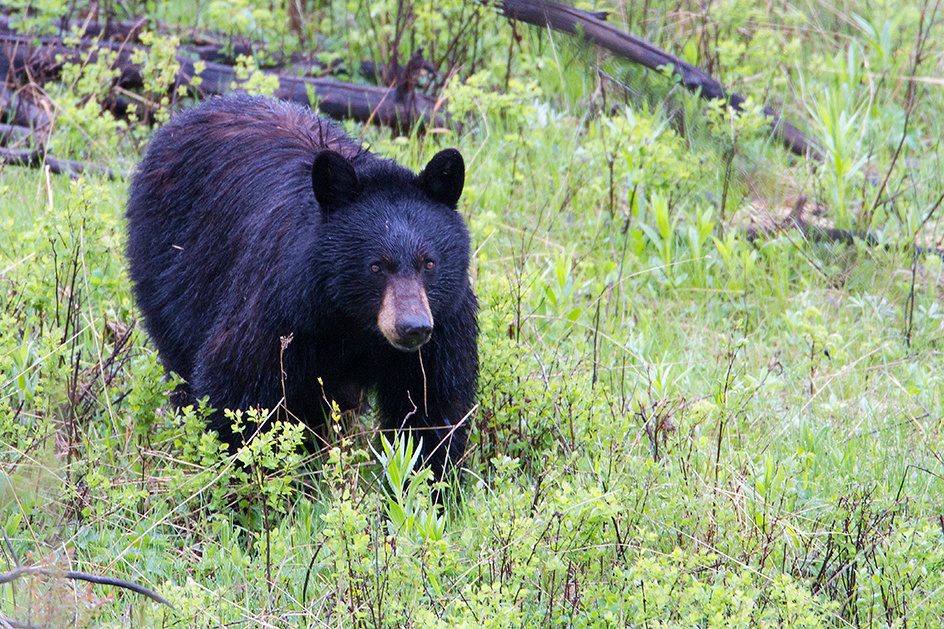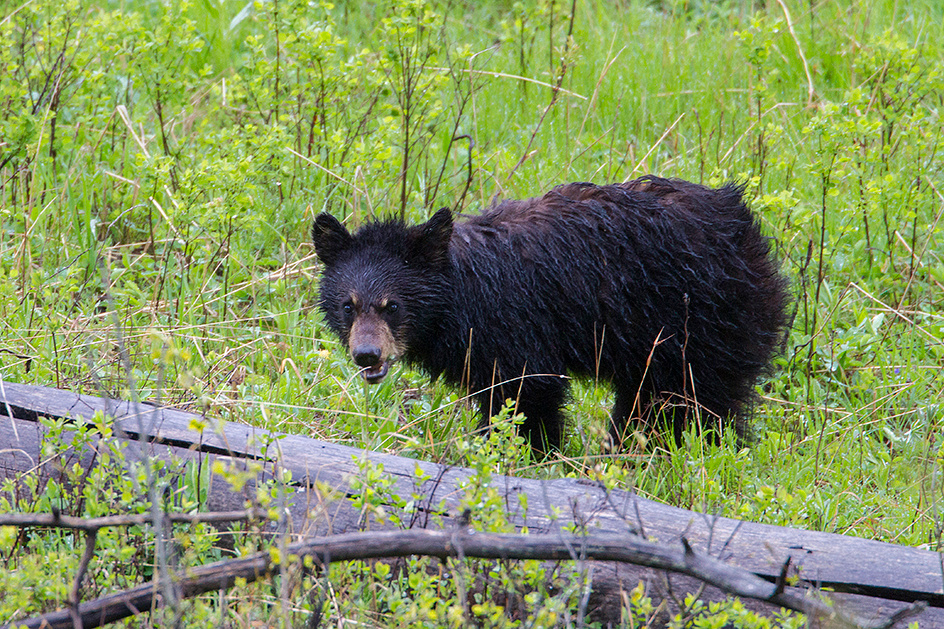 All the black bears we saw were busy foraging and only rarely gave any direct eye contact. I finally got the cub above to look at me for a frame or two.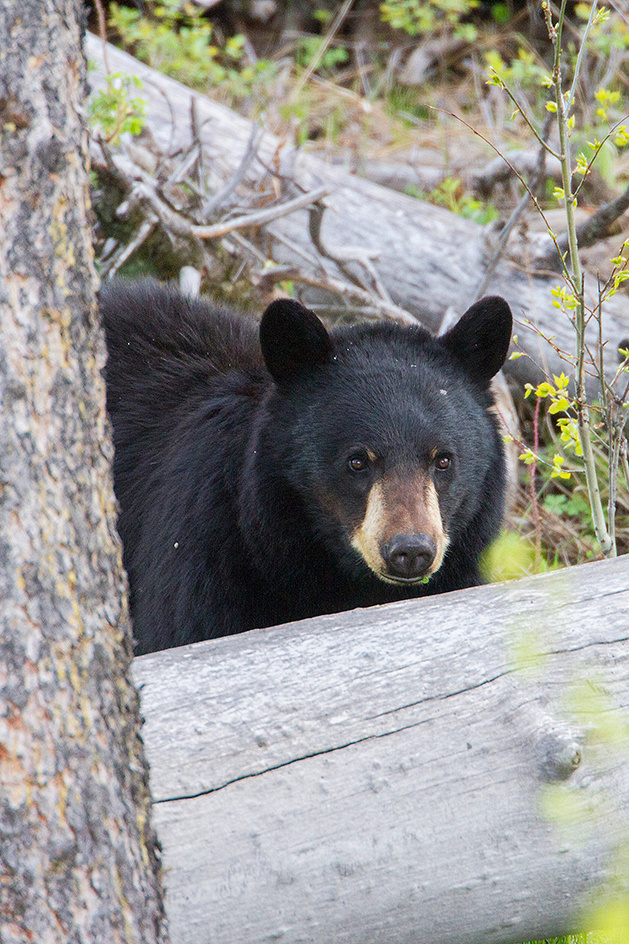 Census data indicate that only about 60 moose reside in Yellowstone, so we were fortunate to find both a young bull and a cow in separate ends of the park. Pictured below is an image of the cow foraging in Willow Park.
We saw several coyotes every day. They are incredibly tame in the park and hunted within feet of our vehicle. The coyote below has just captured a vole at minimum focus distance.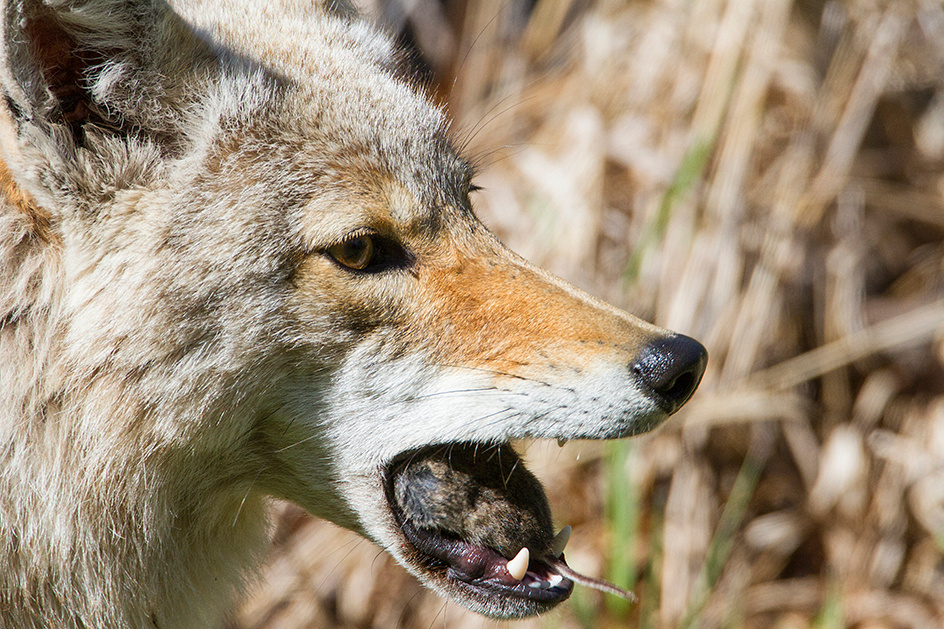 The coyote below was photographed with another mousing in Lamar Valley in decent morning light.
Elk were extremely common, although we only saw six mature bulls. The bull pictured below posed in the only spot of light on the hillside. Dramatic lighting and a regal pose make this one of my favorite images from the trip.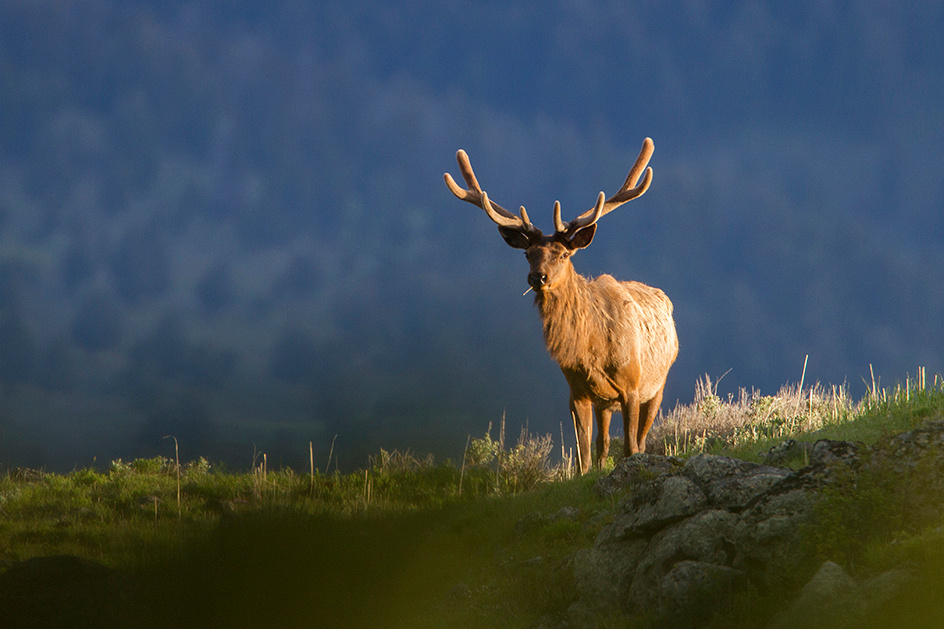 The bull pictured below was in Hayden Valley and seems to have a fairly serious plumbing issue.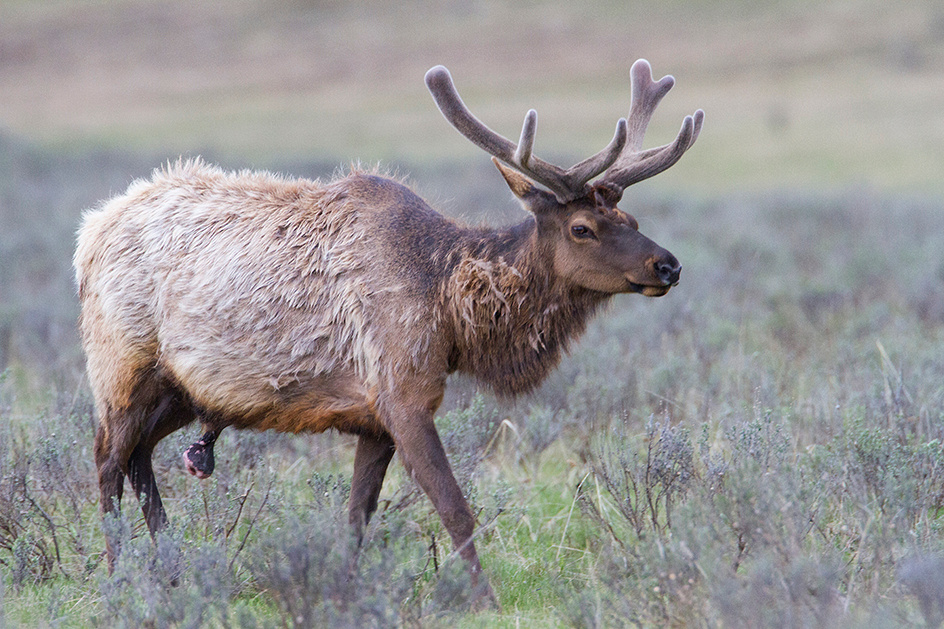 The elk were just beginning to calve. We only saw two calves and both were very wobbly walkers indicating that they had been born only recently. The image below was captured in Gardiner near sunset.
Another species that I had hoped to photograph was red fox. Becky found this little vixen hanging out at the Petrified Tree trailhead. She posed for several hundred closeups.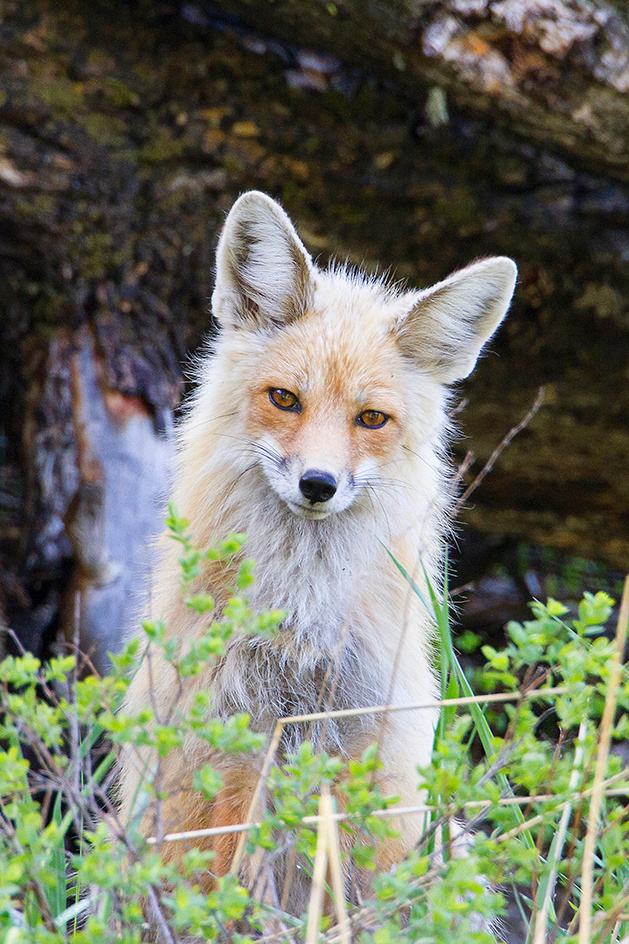 Pronghorn were common near Gardiner and in Lamar Valley. We saw some incredible bucks daily between Tower Junction and Slough Creek.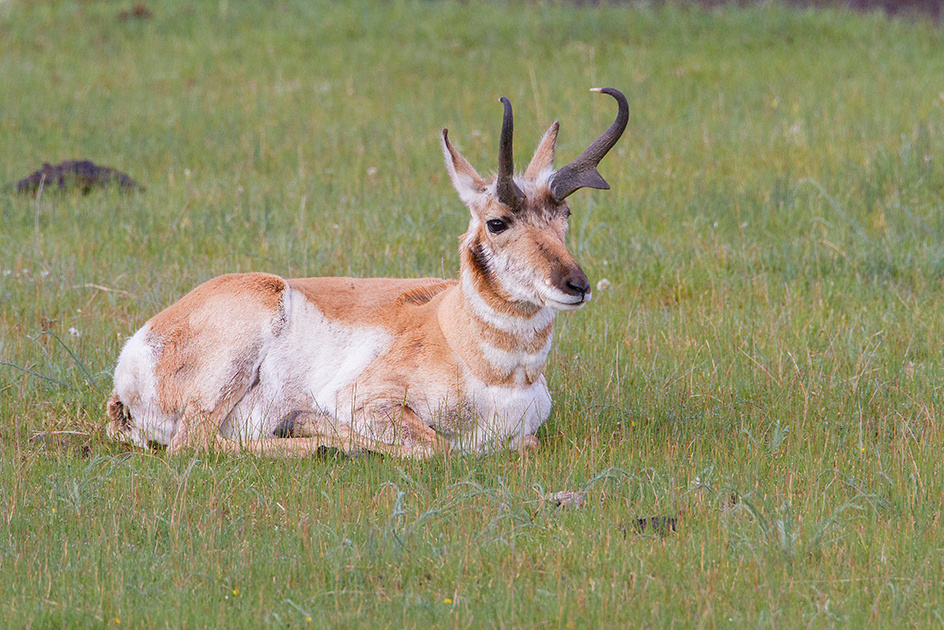 In addition to the many herds of wildlife we also observed large aggregations of human "wolf watchers" at Slough Creek and Lamar Valley. On several days, over 100 watchers with spotting scopes, cameras, or binoculars were present at Slough Creek where a very distant wolf den with pups was visible. An interesting way to spend your day in the park.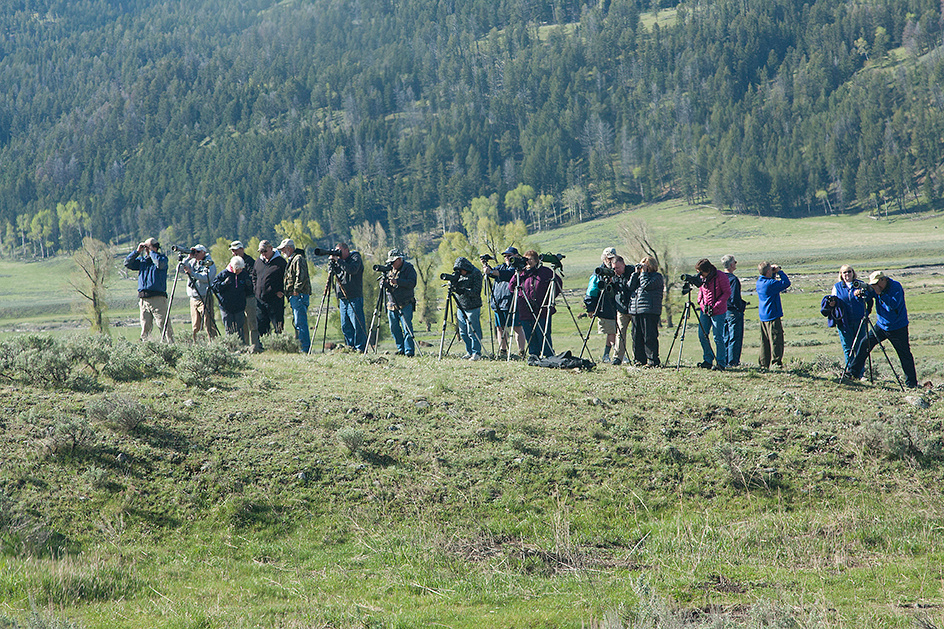 We attempted to locate pika in the park at several locations where we had observed them on our last visit. No luck, but we did see any number of yellow-bellied marmot in those same locations.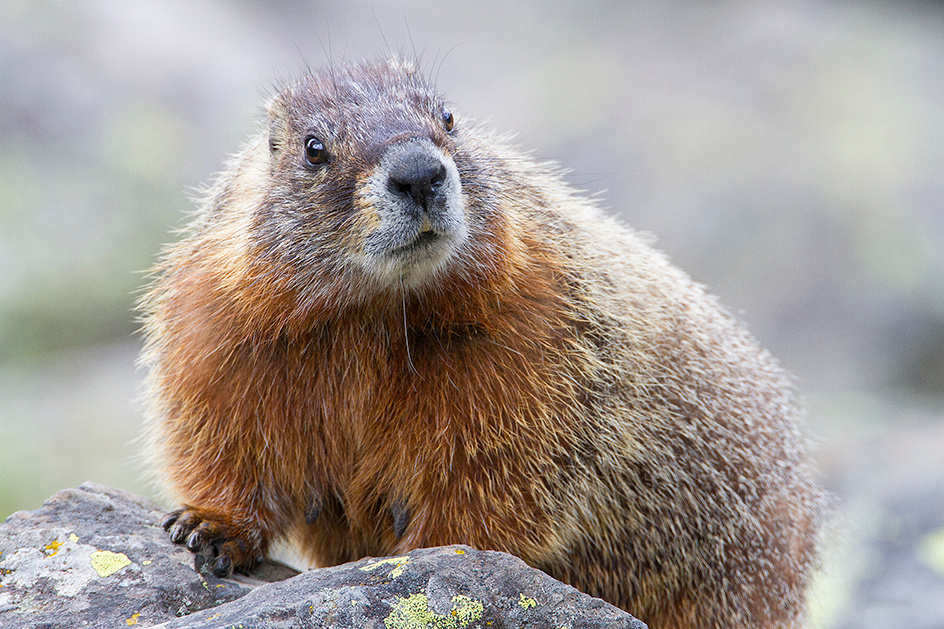 One afternoon we decided to take a drive out to the southeastern entrance over Sylvan Pass. Near the top of the pass we encountered 6 mature big horned sheep rams. They were on the edge of a cliff along the road and it was only with great difficulty that I could back up far enough to get the majority of a ram's head in the frame while remaining on the top of the cliff ledge. A very lucky find and a challenging photo opp.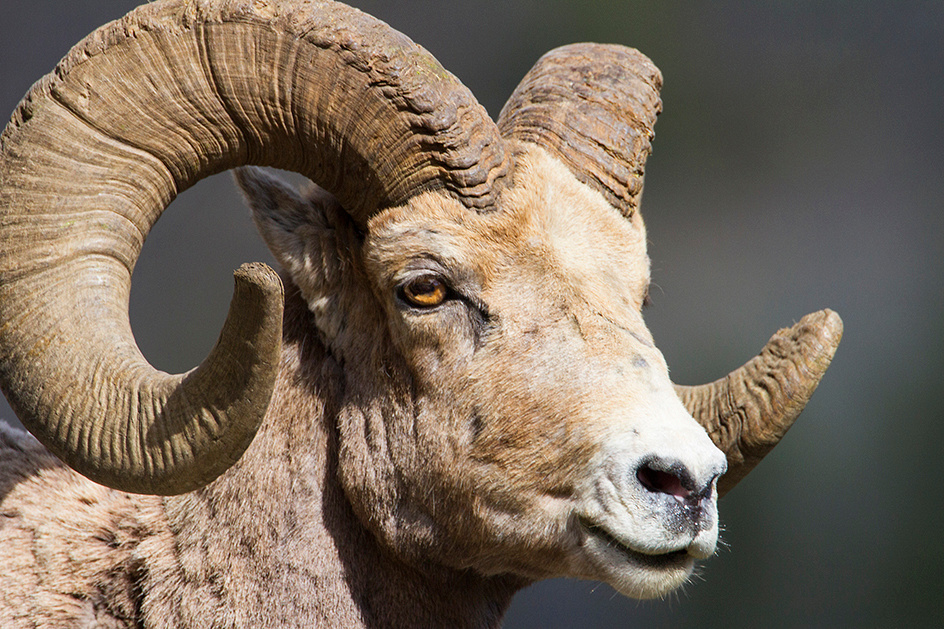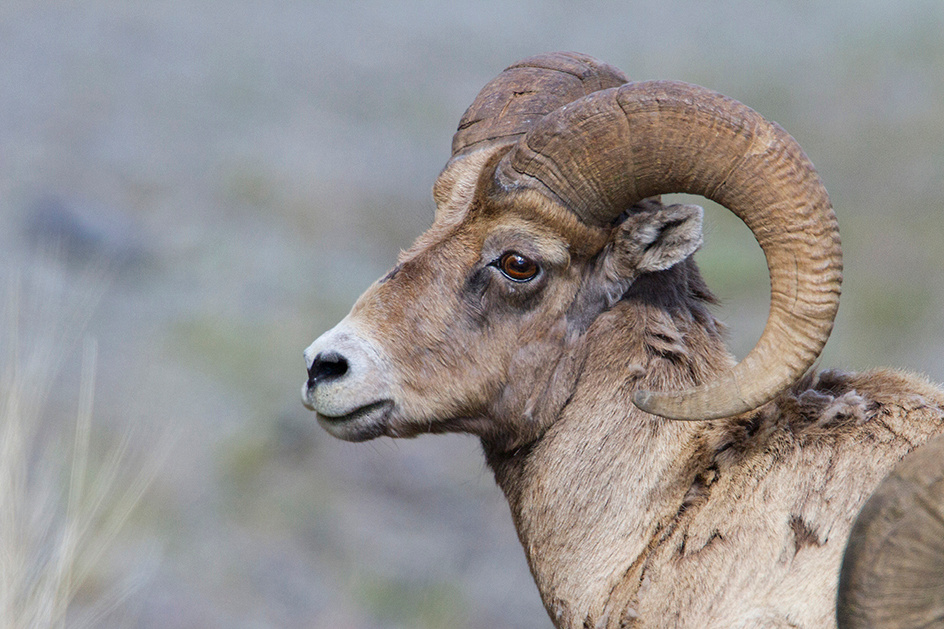 While we had at least some snow every day we were in the park, relatively little snow was present even at higher elevations, like shown in this image captured at Craig Pass.
One of the species that all photographers hope to encounter is grizzly bear. At one location in Lamar Valley we could see (via spotting scope) three separate and very distant grizzly. The image below is a very large crop and the best image of a wild grizzly I was able to obtain on this trip.
I did have somewhat better photo opportunities on grizzly bears at the Wolf and Grizzly Bear Discovery Center at West Yellowstone. This non-profit is a small, but very well done museum/zoo dedicated to bear and wolf biology. The facility houses "problem bears" and has several small wolf packs in somewhat natural looking enclosures. It was very overcast on the morning we visited this facility so direction of light was not an issue. This location is probably best as an afternoon venue to obtain the best light.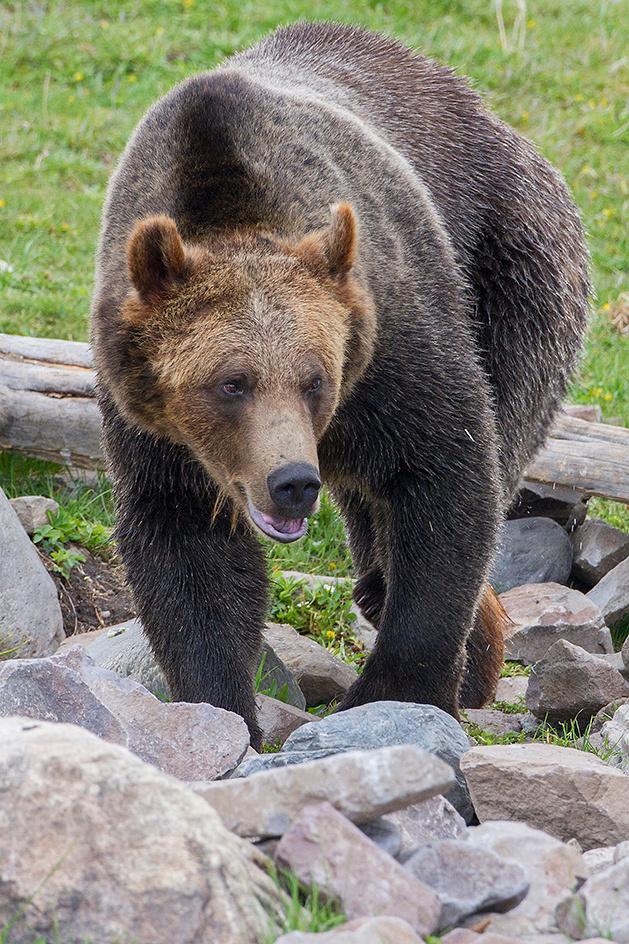 Yellowstone remains my favorite National Park and one of my favorite photo destinations. May is a great time to visit the park and I highly recommend it. My wife Becky served as my driver and spotter and rarely got to see our Gardiner lodging in the daylight. I ended up taking about 2,600 images over the five days. A fantastic trip.